Aroma
Premium Glass Spice Jar Set with Smart Twist Lids -12 Piece Set + 100 bonus spice labels
THE SPICE OF LIFE RIGHT AT YOUR FINGERTIPS
Cooking is an artform. Like a brush on canvas, creating dishes with your favorite spices is all about discovering flavors that your family and friends will enjoy. Whether it's for aroma, color, or a spicy kick, get creative and find your own perfect combination with this modern set of 12 Aroma spice jars. With your favorite spices right at your fingertips, the possibilities are endless. Go ahead and spice up your life.
USD Sale price Price $39.99 Regular price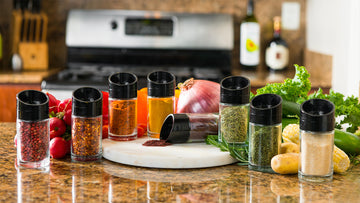 Product Features
SLEEK AND MODERN DESIGN
Made from high quality glass and BPA-free materials, these beautifully designed spice jars will organize your kitchen while showcasing your colorful spice collection in style!
PERFECT SIZE FOR YOUR HOME
The sturdy glass spice containers each hold up to 3.4oz of your favorite spices and makes it easy to identify what you're looking for. No more digging in your shelves for the right spices covered with unsightly labels.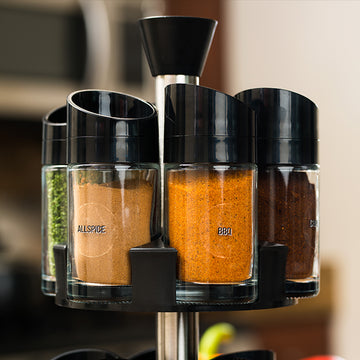 YOUR DREAM KITCHEN AWAITS
You love your spices. With this full set of glass spice jars set, you can easily organize your spices to keep your counters, drawers, or cupboards clutter-free!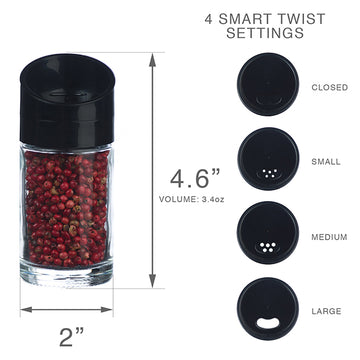 SMART TWIST™ FOR THE SPICES OF LIFE
Your spices come in all shapes and sizes. AROMA spice jars were designed with the unique Smart Twist™ lid system - a rotating 4-setting lid that allows you to conveniently dispense exactly what you need, with precision.
BONUS: MEDLEY SPICE LABELS SET
You order comes with a bonus set of MEDLEY spice labels (valued at $9.99). The set comes with 100 stickers and includes 90+ pre-labeled spices along with 5 blank labels for your personal favorites!
Product Details & Shipping
USD Sale price Price $39.99 Regular price
Glass jars are dishwasher safe.
Smart Twist lids are hand wash only.
Shipping time will vary depending on your location. USA orders typically take 2-5 business days when ordering from Amazon.com.
Set of 12 Aroma Spice Jars with Smart Twist™ Lid
4 Smart Twist™ Settings (Closed, Small, Medium, Large)
3.4oz capacity, 2.05 in x 2.05 in x 4.65 in
100% glass body
BPA free
Bonus: MEDLEY Spice label set: 100 transparent labels included
Spices not included