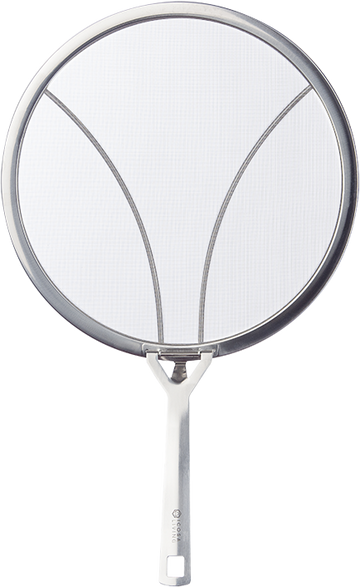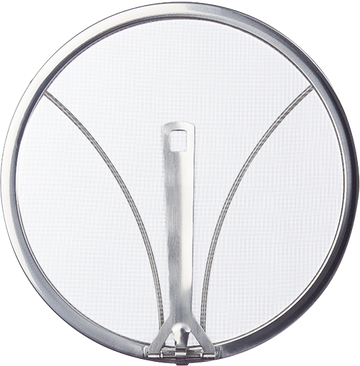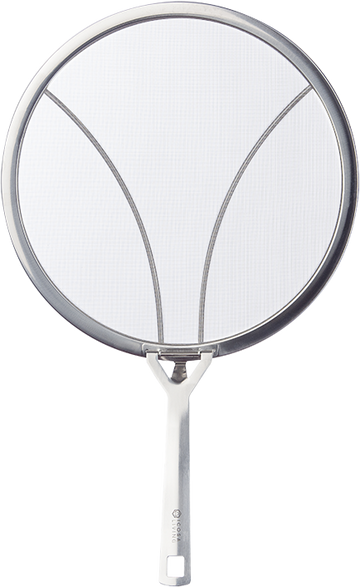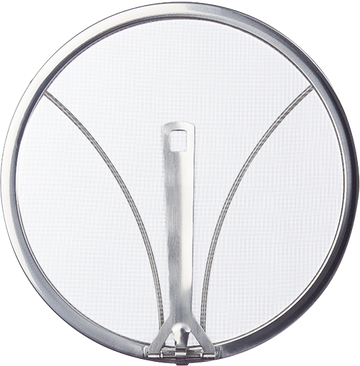 Halo
13'' Premium Splatter Screen w/ Super-Fine Mesh, Folding & Locking Handle
COOK YOUR FAVORITE MEALS. CUT DOWN ON CLEAN UP.
Love cooking but don't love the clean up? We've been there. The Halo Splatter Screen is designed to let you cook what you love safely while saving you from unpleasant cleanups. Not only is it designed to shield your stovetop from the messy oil, sauce, and food debris that inevitably will come from cooking those delicious meals, it's also made to keep you safe from nasty splatters. Happy cooking!
USD Sale price Price $29.99 Regular price
Product Features
SPLATTER-FREE COOKING
The 13 inch splatter screen features extra fine weave mesh, which keeps you safe from nasty frying pan grease, oil, or sauce splatters while keeping your stove and counters clean when cooking your favorite meals.
STAINLESS STEEL DESIGN
Sleek and functional, the frame is constructed from 100% stainless steel.
COMFORTABLE LOCKING HANDLE DESIGN
The folding hinge locks into place (even when turned over) for easy handling and neatly folds up for storage after use. The sturdy brushed stainless steel handle has a subtle curvature for a comfortable yet confident grip.
COOL TO THE TOUCH
Solid construction with two flat curved spines rest directly on the pot or pan to reduce heat transfer to keep the screen cool to the touch even with extended use, while staying perfectly balanced.
FIT FOR YOUR KITCHEN
Made from premium 18/8 stainless steel, the HALO fits on most common kitchen pots and pans. The extra fine quality stainless steel weaved mesh reduces unwanted splatters without restricting airflow.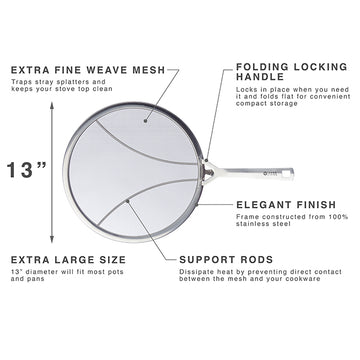 DESIGNED WITH FORM AND FUNCTION
HALO will be your go-to for keeping you and your stove top free from messy splatters. After cooking, the handle neatly folds and stows away to keep your kitchen clean and organized.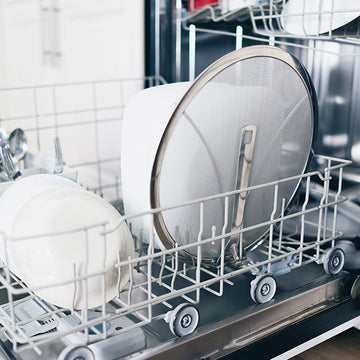 DISHWASHER SAFE
Cleanup is a breeze because you can fold up the screen and can go right into the dishwasher when it needs to be cleaned.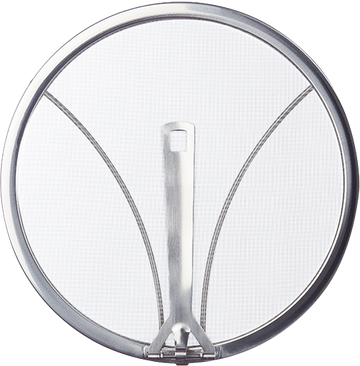 Product Details & Shipping
USD Sale price Price $29.99 Regular price
Dishwasher safe.
For best maintenance, we recommend hand washing immediately after use to prevent oils from accumulating.
Use warm water, soap, and a soft sponge to gently scrub both sides of the fine weave mesh.
Shipping time will vary depending on your location. USA orders typically take 2-5 business days when ordering from Amazon.com.
Halo splatter screen with folding handle.