Harvest
Complete Stainless Steel Cheese Knives with Teak Wood Handles - 6 Piece Set
YOUR FINEST CHEESES, NOW SERVED IN STYLE
Quality meets elegance. This set comes ready-to-gift for a wedding, bridal shower, housewarming, or even just to spoil a foodie friend! The sleek, modern design is an elegant accompaniment to any dining collection, with a casual versatility that makes it ideal for any occasion. You'll be the hit of the party when you bring this stunning set along to fancy dinners, potlucks, wine-tastings, or backyard BBQs.
USD Sale price Price $34.99 Regular price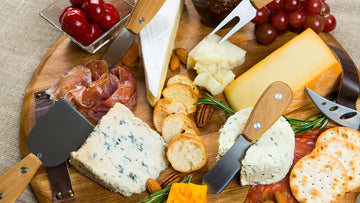 Product Features
COMPLETE 6-PIECE COLLECTION
This full Cheese Knife Set includes 4 cheese knives, 1 cheese fork and 1 cheese spreader and is everything you need to serve all of your favorite cheeses.
PERFECTLY SIZED
Each knife measures 5/1/4" to 5 1/2" from end to end. The perfect size for serving at your next dinner party.
EASY-TO-USE FOR EVERYONE
Whether you're a cheese expert or an all-round foodie, the solid and ergonomic design allows for a balanced and confident edge for slicing, spreading and serving soft and hard cheeses.
FULL METAL TANG
Each knife features a high quality teak wood handle and stainless steel blade with a 'full metal tang' running throughout the entire length. Your knives will look and feel great in the hands!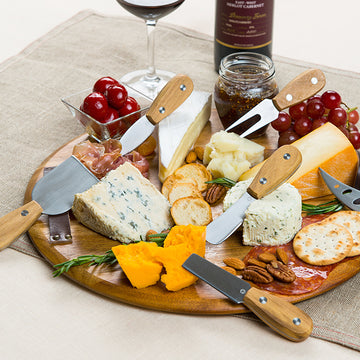 IMPRESS YOUR GUESTS
Show off your beautiful set of wooden cheese knives at your next wine-tasting, potluck or backyard BBQ. They'll be the new crowd favorites for any gathering.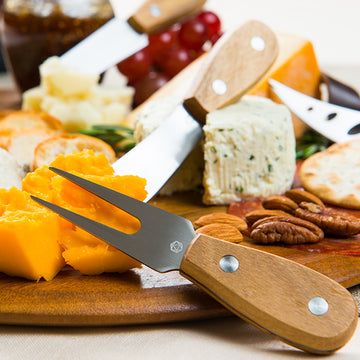 PERFECT GIFT FOR ANY OCCASION
Who doesn't love cheese? The HARVEST Cheese Knives comes delivered to your door in our elegantly designed box – packaged and ready for a wedding, bridal shower, housewarming or a just-because present!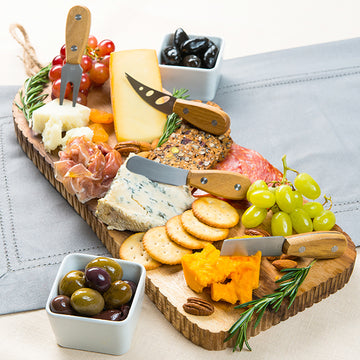 PREMIUM FEEL AND SLEEK DESIGN
HARVEST knives feature a 'full metal tang' meaning the blade is forged from a single piece of stainless steel that runs through the entire handle for a balance feel and beautiful aesthetic. The double rivets add unparalleled durability and strength.
Product Details & Shipping
USD Sale price Price $34.99 Regular price
To best maintain the sharpness and finish of your knives hand wash is recommended.
Shipping time will vary depending on your location. USA orders typically take 2-5 business days when ordering from Amazon.com.
Pronged Knife: a versatile knife for cutting and slicing a variety of soft cheeses like Brie as well as firm cheeses, with a fork tip that can also be used to serve cheese.
Thin Knife: designed to cut semi-firm cheeses like Jack or Cheddar, as well as soft cheeses like Brie.
Heart Knife: dynamic all-purpose knife that is great for cutting hard cheeses like Parmesan into bite-size pieces.
Serving Fork: used simply to serve guests, or to hold harder, firmer cheeses as you slice them.
Chisel Knife: cuts crumbly soft cheese, or shave, chip and cube firm cheese like Parmesan, Emmentaler, Asiago, and aged cheddars.
Spreader: for evenly spreading soft or crumbled cheese onto crackers and other accompanying foods.